About 10 people have been confirmed dead after the Yutong Bus they were traveling in from Accra to Kumasi, grazed the side of an oncoming vehicle and veered off its lane at Abepotia, a village near Nkawkaw on Sunday morning.
Confirming the incident to Citi News, the Eastern Regional Police Public Relations Officer, ASP Ebenezer Tetteh, also said out of the 54 passengers on board the bus, 33 sustained various degrees of injury, and are in critical condition at the Nkawkaw Holy Family Hospital.
14 other passengers have been treated and discharged.
"…So far, we have recorded 10 causalities. There were 54 passengers on the Yutong bus that was traveling from Accra heading towards Kumasi. And upon reaching Abepotia, the Yutong bus allegedly after entering a single lane, instead of driving on its lane, drove on the other lane of the oncoming cars, so it grazed a side of a trailer that was coming from Kumasi towards Accra. 10 passengers out of the 54 died on the spot, and 33 are still on admission, and 14 have been treated and discharged."
He added that one out of the ten bodies deposited at the Holy Family Hospital Morgue is suspected to be a civil servant, and called on family members who have not heard from their relatives to come and identify the bodies.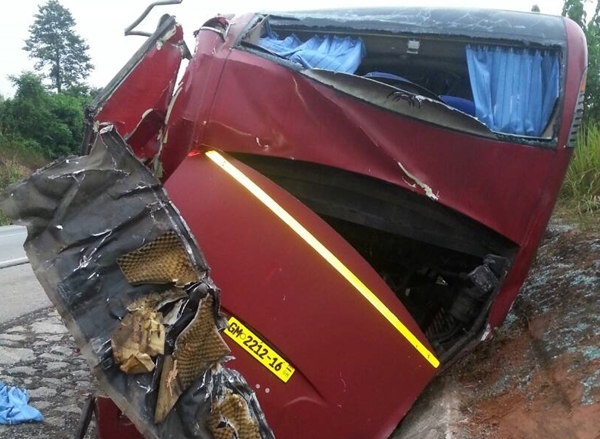 Driver detained
Mr. Tetteh, also confirmed that the driver of the Yutong bus is in custody, "but the whereabouts of the trailer driver is still unknown."
"…But for the negligence of the driver of the Yutong bus, this accident is a very very avoidable accident," he noted.
Source: Citifmonline