Divers in northern Thailand have rescued all 13 people who were trapped in a flooded cave system, 17 days after they got trapped underground.
The plight of the 12 boys and their football coach, and the work to free them, gripped the world's attention.
Four boys and the coach were brought out on Tuesday evening to complete the rescue mission, Thai navy divers said.
The group, a football team, got stuck deep inside the cave on 23 June after heavy rains caused flooding.
Aged between about 11 and 17, they became trapped during an excursion with their coach.
After they were found by divers last week, huddled in darkness on a ledge and cut off from the outside world for nine days, the race began to get them out before the weather deteriorated even further.
The first eight boys to be rescued, on Sunday and Monday, are still in hospital but said to be in good mental and physical health.
They have undergone X-rays and blood tests, and will remain under observation in hospital for at least seven days.
Confirming the completion of the rescue operation, the Thai Navy Seals Facebook page announced: "All 12 Wild Boars and coach have been extracted from the cave. All are safe."
The football team's name is the Wild Boars.
How were they rescued?
A team of 90 expert divers – 40 from Thailand and 50 from overseas – worked in the caves.
They guided the boys and their coach through darkness and submerged passageways towards the mouth of the Tham Luang cave system.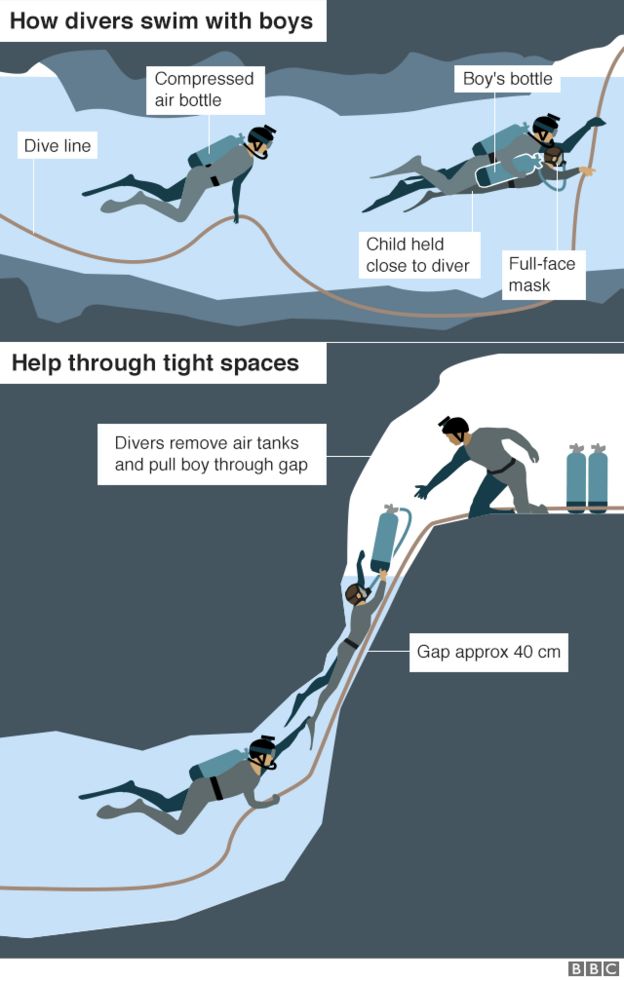 Getting to and from the trapped group was an exhausting round trip, even for experienced divers.
The process included a mixture of walking, wading, climbing and diving along guide ropes.
Wearing full-face masks, which are easier for novice divers than traditional respirators, each boy was accompanied by two divers, who also carried his air supply.
Source: BBC