Authorities in Cameroon appear to want to postpone October's general election to a later date.
The BBC has obtained a copy of a letter from President Paul Biya to the leader of the senate, requesting that it debate the possibility of postponing elections for a year.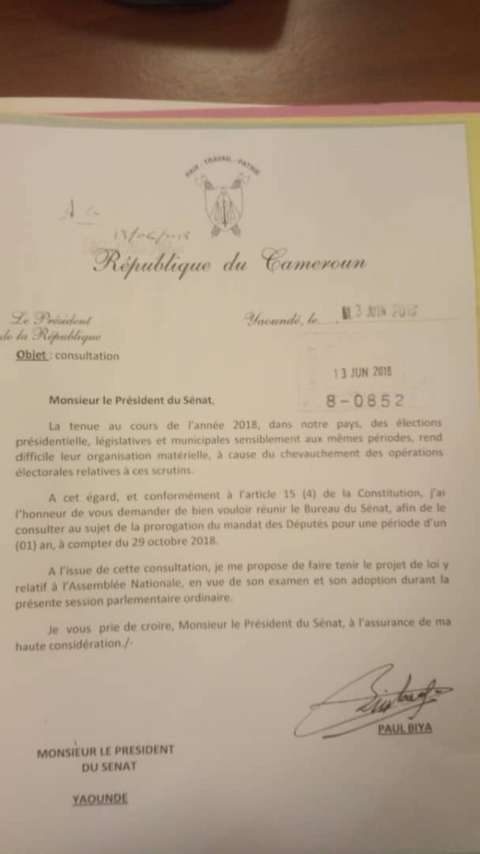 It follows last week's news that only 3% of new voters registered since the start of the year are from the country's Anglophone regions, although English speakers account for about 20% of the population.
Separatists in Cameroon's two mainly English-speaking areas – the North-West and South-West regions – have been demanding independence.
Tens of thousands of Anglophone Cameroonians fleeing violent clashes with Francophone security forces have crossed into neighbouring Nigeria in recent months.
Lawyer and presidential challenger Akere Muna tells BBC Focus on Africa radio that the proposal to delay elections "shows the level of incapacity in taking care of issues that concern the common man".
But he describes the document as a "simple, procedural letter… asking the opinion of the president of the Senate before such a proposal goes to parliament".
He says that Cameroonian dictates that only municipal and legislative can be postponed – not senatorial nor presidential elections.
He adds:
By the constitution you cannot defer the presidential elections. To defer those you'd have to change the constitution. I don't think it will be tampered with. It would mean that the president is trying to extend his term of office, which is rather irregular."