Ex-Trump Aide Accused Of Witness Tampering
US prosecutors have accused Donald Trump's former campaign manager, Paul Manafort, of trying to tamper with potential witnesses ahead of his trial.
Robert Mueller, who is investigating alleged Russian election interference, said Mr Manafort had contacted people related to his money laundering and tax fraud case in breach of his bail terms.
Mr Manafort, 69, denies all charges.
They are not connected with allegations of collusion between Russia and the Trump campaign during the US election.
Mr Trump denies any collusion and has consistently spoken of a witch hunt.
Mr Manafort's first trial, on charges of money laundering and illegal lobbying, is due to begin in September.
Who is Manafort accused of contacting?
According to Mr Mueller's motion, Mr Manafort tried to reach witnesses who could be called to testify about unlawful lobbying that he allegedly carried out on behalf of Ukraine's previous pro-Russian government.
He is said to have made tens of millions of dollars from a campaign to bolster that government's reputation within Europe and the US, but not to have registered this work.
Prosecutors provided the judge with a summary of contacts they said were made with potential witnesses between February and April this year.
The communications were an "effort to influence their testimony and to otherwise conceal evidence", FBI Special Agent Brock Domin wrote in a separate declaration filed to the court.
Could Manafort go to jail?
Mr Mueller has asked the judge to consider such a move, or at least revise the terms of the release.
Mr Manafort, who resigned as chairman of the Trump campaign in August 2016, has been under house arrest since he was charged last October.
His reaction to the new allegations of witness tampering was not immediately known.
His other trial – on tax fraud charges – is due to start next month.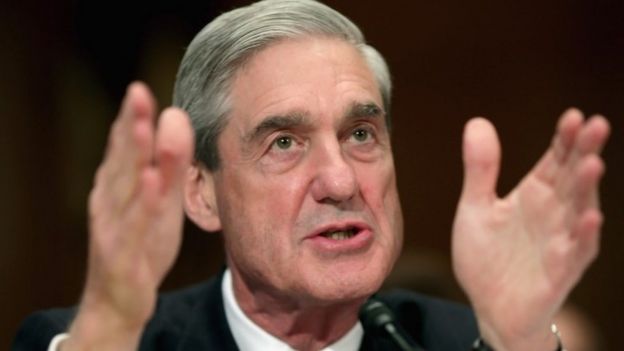 How is Mueller's main inquiry progressing?
The special counsel is investigating whether there was any collusion between Russia and Mr Trump's campaign, and whether the president unlawfully tried to obstruct the inquiry after the election.
Mr Mueller was appointed after Mr Trump fired FBI director James Comey last May.
Sixteen Russian individuals and firms have been indicted for alleged meddling in the election.
Former Trump campaign and administration staff indicted by Mr Mueller also include Michael Flynn, the president's former national security adviser; Rick Gates, a former deputy campaign chair; and George Papadopoulos, a former foreign policy adviser.
Like Mr Manafort, they are not accused of colluding with Russia. Unlike him, they have worked out plea deals with prosecutors and are co-operating with the main inquiry.
Source: BBC