High Commissioner Adjei Presents Credentials To The Governor General Of Australia
On Thursday 23 November 2017, The Governor General of Australia, General the Honourable Sir Peter Cosgrove received from His Excellency Mr Edwin Nii Adjei, letters of credence accrediting him as the new Ghana High Commissioner at a short ceremony at the Government House in the Australian Capital Territory, Canberra.
After the ceremony of presenting credentials, Sir Cosgrove and High Commissioner Adjei discussed ways of developing and strengthening bilateral relations between the two countries.
His Excellency Adjei briefed the Governor-General on the NPP government's economic growth initiatives. He mentioned the four fundamental principles of economic growth that the government is pursuing such as micro-economic stability and debt sustainability, accelerated industrial development, infrastructure development and agricultural transformation.
He also referred to the flagship projects of the Government such as the One District, One Factory, One warehouse, which the Government is implementing with the support of the private sector to create the needed jobs and reduce unemployment with the ultimate aim of building an economy that will be self-sustaining and not reliant on foreign aid.
H.E Mr Edwin N. Adjei has worked with the Ministry of Foreign Affairs and Regional Integration for the past 30 years and has served in various Bureaux of the Ministry such as the Information and Culture Bureau, The Personnel and Training Bureau, Estates and General Services Bureau, Africa and Regional Integration Bureau and has been Acting Director, Finance and Accounts Bureau, Director of International Organisations and Conferences Bureau, Personal Assistant to the Chief Director, Director, America Bureau and Director, Policy Planning Monitoring and Evaluation Bureau.
He has also served overseas in Ghana Missions in Windhoek, Prague, Beijing, Riyadh and London.
Till his appointment by His Excellency Nana Addo Dankwa Akufo-Addo as Ghana's High Commissioner to the Commonwealth of Australia, he was the Acting Chief Director of the Ministry of Foreign Affairs and Regional Integration.
He said his main priorities as the head of mission is to increase trade and investment, education, increase of collaboration in the extractives industry and support for Ghana's agricultural sector.
H.E. Mr Edwin N. Adjei is married to Mrs Matilda Adjei and they are blessed with three children.
The High Commissioner was accompanied by his wife, Mrs Matilda Naa Ayikailey Adjei, Mr Samuel Yao Kumah (Minister), Mr Hakeem Balogun (Minister – Consular Affairs) and Mrs Matilda Kumah (First Secretary).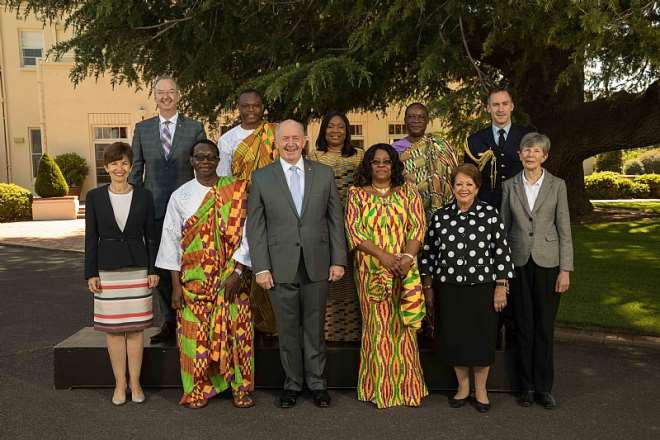 Source: DiasporaNews