EU leaders have differed sharply over how a new deal on curbing irregular migration will work.
The agreement foresees the creation of secure centres to receive migrants.
France's president said his country would not set any up as it was not the EU country where migrants landed first.
Italy's prime minister – who had held up agreement at the Brussels summit – said centres could be anywhere within the EU. EU President Donald Tusk warned of difficulties to implement the deal.
German Chancellor Angela Merkel spoke of a "significant step forward" but said more must be done to resolve disagreements.
Who gets what from the deal?
The deal is being billed as a lifeline for Mrs Merkel, who has faced a political crisis at home where a key ally, Interior Minister Horst Seehofer, has threatened to start turning away migrants who have already registered elsewhere.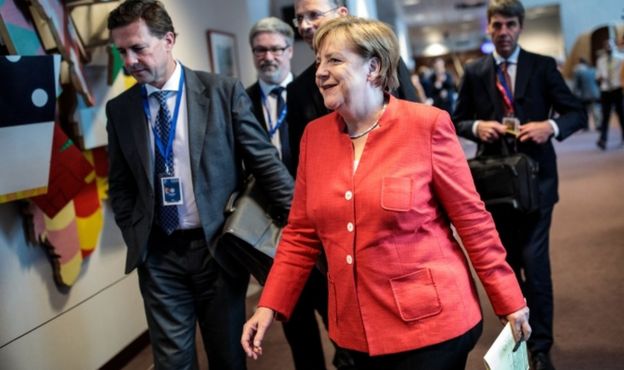 Italy also differed with Spain and Greece who agreed to take back migrants registered on their territory who had travelled on to Germany.
Italian Prime Minister Giuseppe Conte had earlier taken the rare step of blocking the conclusions of the summit's joint communique until the leaders had settled the migration issue.
The 28 EU leaders agreed several other measures, including:
Strengthening external border controls, with more funding for Turkey and countries in North Africa
Exploring the possibility of "regional disembarkation platforms", designed to thwart people-smuggling gangs by processing migrants outside the EU
Boosting investment in Africa to help the continent achieve a "socio-economic transformation" so people no longer want to leave in pursuit of a better life in Europe
Where would the secure centres be built?
The centres are meant be set up by EU states on a voluntary basis, but there are no details on which nations might host them or take in refugees.
French President Emmanuel Macron said they would be in countries where migrants initially arrived in the EU, and that France would not have any as it is "not a country of first arrival".
But Mr Conte told reporters that all EU states would be able to establish the centres, "including France". He suggested Mr Macron had been "tired" when he spoke.
About 56,000 migrants have arrived in Europe so far this year, the International Organization for Migration says, compared to more than a million in 2015.
Several Central European states have so far rejected an EU scheme to relocate 160,000 refugees from overcrowded camps in Greece and Italy.
How have aid agencies responded?
Non-governmental organisations have fiercely condemned the deal, saying it betrays vulnerable people and those trying to stop them dying in the Mediterranean.
The deal also aimed to "demonise non-governmental search and rescue operations", MSF's emergencies chief Karline Kleijer said.
On Friday, around 100 people were said to have drowned off the Libyan coast, with 16 rescued.
Italy's anti-immigration Interior Minister Matteo Salvini has previously railed against rescue ships run by international NGOs, and said on Friday that they helped people traffickers "consciously or not".
"The NGOs will only see Italy on a postcard," he told Italian radio. "The ports will be closed all summer."
Source: BBC