Nato leaders are turning their attention to the conflict in Afghanistan, on the second day of a Brussels summit so far dominated by demands from President Donald Trump.
Taliban militants reportedly killed up to 30 soldiers in attacks on Afghan army posts on Thursday.
Mr Trump has urged Nato allies to commit at least 4% of their annual output (GDP) to military spending.
Nato states are currently working towards a target of 2%.
President Trump used Thursday morning's meeting to demand that the 2% goal be met by 2019, according to reports.
Reuters news agency said he broke from "a carefully scripted session" about other Nato matters to emphatically restate his position.
In a press conference, Mr Trump was complimentary about the meeting. "We made a tremendous amount of progress today," he said.
"It has been really amazing to see the level of spirit in that room," he added, before adding that he believed in Nato and it was a "fine-tuned machine".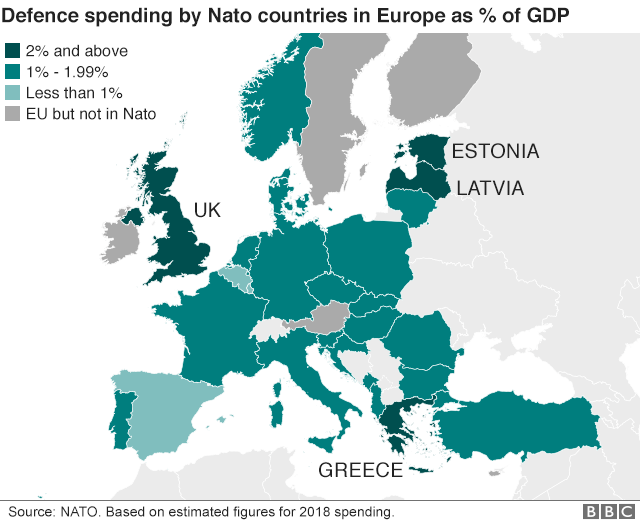 In a separate briefing, German Chancellor Angela Merkel said there was a clear commitment to Nato from all attendees.
There had been concern that President Trump might quit the alliance. But Nato sources, speaking to Reuters, said Mr Trump denied making such a threat.
Mr Trump's early-morning tweets from Brussels had been typically critical.
The US leader has specifically singled out Germany for criticism over its defence spending.
He has also accused the country of being held prisoner to imported Russian energy, saying it is "totally controlled" by Moscow.
EU figures suggest Russia is responsible for between 50% and 75% of Germany's gas imports but gas makes up less than 20% of Germany's energy mix for power production.
Source: BBC