urkey's long-standing leader Recep Tayyip Erdogan has won a new five-year term after securing outright victory in the first round of a presidential poll.
Mr Erdogan got nearly 53% with almost all votes counted. His closest rival Muharrem Ince was on 31%.
He will now assume sweeping new powers, won in a controversial referendum last year. The post of PM will be abolished.
Mr Ince accepted the result on the basis of poll figures – but said that everything about the vote was unfair.
Final results will be announced on Friday.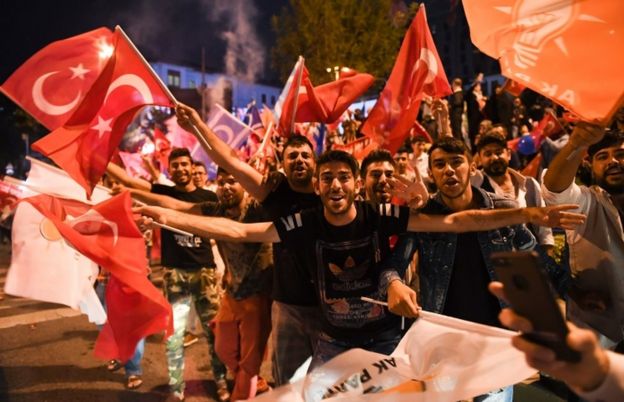 The polls were the most fiercely fought in many years.
Mr Erdogan has presided over a strong economy and built up a solid support base by investing in healthcare, education and infrastructure.
But the 64-year-old has also polarised opinion, cracking down on opponents and putting some 160,000 people in jail.
Mr Erdogan gave a triumphant victory speech from the balcony of his party's headquarters in the capital Ankara at 03:00 (00:00 GMT), declaring: "The winner of this election is each and every individual among my 81 million citizens."
Congratulations have come in from Islamic leaders including Iranian President Hassan Rouhani. Russian President Vladimir Putin talked of Mr Erdogan's "great political authority and mass support".
Mr Ince, from the Republican People's Party (CHP), said the election was unfair from its declaration to the announcement of the results.
Turkey was entering a dangerous period of one-man rule, he added.
But he said that there was no significant difference between official results and his party's figures, and therefore he would accept the outcome.
There were another four candidates on the presidential ballot, all of whom fell below 10% of the vote.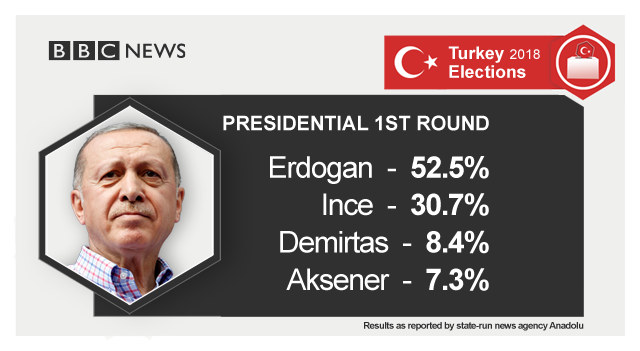 Who won seats in Turkey's parliament?
Mr Erdogan said the governing alliance led by his AK Party (AKP) had secured a majority, in a separate vote for the 600-member chamber.
State news agency Anadolu said the AKP itself had 42% of the votes for parliament with 99% counted, giving it a projected 293 seats. Its partner, the MHP, had 11% and 50 seats.
The opposition CHP won only 23% (146 seats) despite Mr Ince's popularity in the presidential vote, while its nationalist ally the Iyi (Good) party won 10% (44 seats).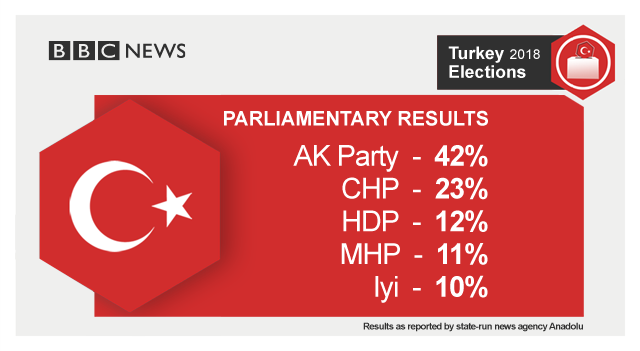 In a development that will please Kurdish voters, the pro-Kurdish HDP exceeded the 10% threshold needed to enter parliament. With 67 seats, it will form the chamber's second-largest opposition faction.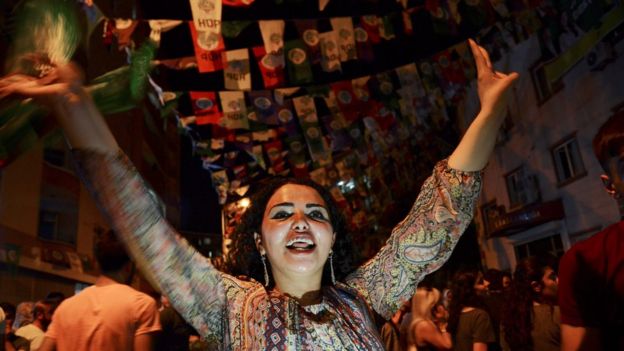 The party's success comes despite the fact its presidential candidate Selahattin Demirtas is in a high-security prison on terror charges, which he firmly denies.
Source: BBC