Hurricane Florence has been downgraded to a category two storm as it approaches the US but officials still warn of a "disaster at the doorstep".
Florence's winds may have dropped to 110mph (175km/h) but its slow-moving nature could mean it lingers for days, bringing catastrophic flooding.
Some 10 million people are now under some form of storm watch.
Florence may now be heading further south, and Georgia is the latest state to declare an emergency.
It joins North and South Carolina, Virginia, Maryland and Washington DC.
Where is the hurricane now?
As of 05:00 Eastern Daylight Time on Thursday (09:00 GMT), Florence was 205 miles (330km) south-east of Wilmington in North Carolina, the latest National Hurricane Centre advisory says.
Forecasters have adjusted the predicted path of Florence. It is now expected to make landfall a little further south, on the Carolinas border on Thursday.
The hurricane's wind speeds have fallen from a category 3 level of 111-129 mph to a category 2 level of 96-110 mph.
However, they are not expected to weaken further and the forward speed of the hurricane is also dropping, meaning it could linger near the coastline through to Saturday.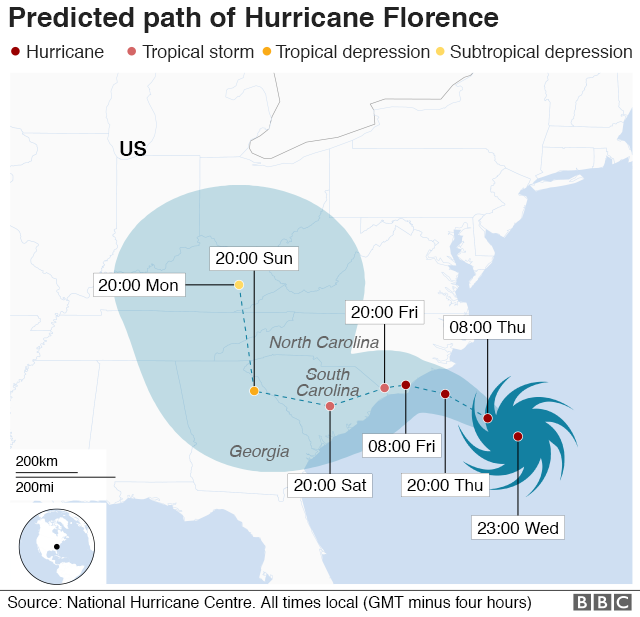 This means that torrential rainfall could last for significant periods and cause catastrophic flooding, including in inland areas such as Alabama, Tennessee, Kentucky and West Virginia.
North Carolina Governor Roy Cooper said: "The time to prepare is almost over, Disaster is at the doorstep and it's coming in."
What makes Florence so dangerous?
The biggest danger to life could be from storm surges, which are still predicted to be as high as 13ft (4m) between Cape Fear and Cape Lookout in North Carolina, areas that could also see up to 40in (101cm) of rain.
There will be hurricane-force winds up to 80 miles from the centre of the storm, meteorologists say.
President Donald Trump issued a video message saying: "This is going to be one of the biggest ones to ever hit our country… Protection of life is the absolute highest priority."
A National Weather Service forecaster said: "This will likely be the storm of a lifetime for portions of the Carolina coast.
"And that's saying a lot given the impacts we've seen from Hurricanes Diana, Hugo, Fran, Bonnie, Floyd and Matthew.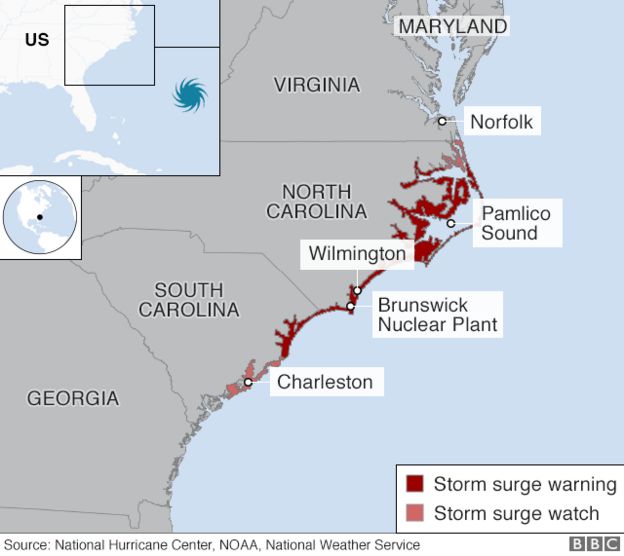 "I can't emphasise enough the potential for unbelievable damage from wind, storm surge and inland flooding with this storm."
Jeff Byard, of the Federal Emergency Management Agency, said: "This is going to be a Mike Tyson punch to the Carolina coast."
What damage could it cause?
Florence could wreak more than $170bn (£130bn) of havoc and damage nearly 759,000 homes and businesses, says analytics firm CoreLogic.
Is global warming to blame?
The relationship between climate change and hurricanes is a complex one.
Warmer seas power hurricanes. So as the temperature of ocean water goes up, we might expect the intensity of hurricanes to increase in future.
A hotter atmosphere can also hold more water, so this should allow hurricanes to dump more water on affected areas.
But there are so many factors that contribute to these rare events, it has been difficult to tease out clear trends from the data.
Source: BBC