German Chancellor Angela Merkel has urged European leaders to work together on finding solutions to irregular migration.
She told Germany's parliament the issue could be a defining moment for the EU.
The call comes ahead of an EU summit focused on how to deal with the many undocumented migrants – mainly Africans – who continue to risk their lives in the Mediterranean.
Mrs Merkel is under pressure to come up with a deal to prevent new arrivals.
Interior Minister Horst Seehofer, from her Bavarian coalition partner the CSU, has given her until this weekend. Otherwise he said he will start turning away migrants from the border in his home state.
The migrant flows also include refugees fleeing the Syrian war and other conflicts, urgently seeking asylum.
It is not a crisis on the scale of 2015, when thousands were coming ashore daily on the Greek islands. The European Council – the EU's strategic leadership – says the numbers illegally entering the EU have dropped 96% since their peak in October 2015.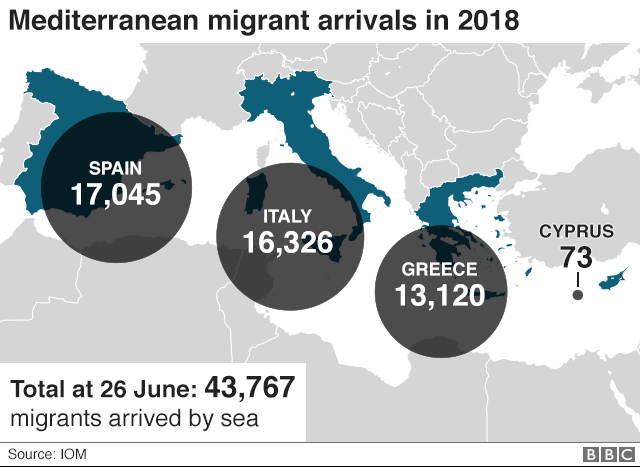 The EU wants much tighter co-operation with transit countries and migrants' home countries. This would allow more failed asylum seekers to be sent back; the "return" rate currently is just 36.6%, the Commission says.
Pros?
There has been effective EU co-operation with Turkey: a 2016 deal led to a drastic drop in migrants taking the Balkan route.
The EU naval mission off Libya works closely with the Libyan coastguard to stop people-smuggling.
Cons?
Conditions are dire in Libyan migrant holding centres.
Turkey is still short of €3bn (£2.6bn; $3.5bn), pledged by the EU for Syrian refugees.
Tackling poverty in Africa, from which many migrants are fleeing, requires generous EU funding. There is an EU Trust Fund for Africa, but it is short of €1.2bn in pledged funds.
Source: BBC