I-texon Ghana, an organisation empowering the youth on higher education choices, has announced the 11th edition of its Ghana Higher Education Fair, to invest relevant and key information into the future leaders at six (6) regional venues nationwide.
Year in and out, a great number secondary school leavers lose out on the opportunity to better their education due to a lack of knowledge about the higher education options available.
Most of these young ones have no idea which programs they can even pursue with their subject combinations.
The 11th "Ghana Higher Education Fair" train will bring the event to six (6) locations.
The three-days-per-venue Event takes off in Sunyani SHS, Brong Ahafo, on the 23rd of January, followed by the Ashanti Regional event at Kumasi Anglican SHS, between 31st January and 2nd February.
Students in the Western Region will be mentored at Arch Bishop Porter Girls' SHS, from 6th to 8th of March, with Aggrey Memorial SHS hosting Cape Coast between 14th to 16th March.
Oyoko Methodist SHS will host students in the Eastern Region from 21st to 23rd February with Presbyterian Boys SHS, Greater Accra, bringing the series to a close from 27th February to 1st March.
The event supported by the Ministry of Education through the Ghana Education Service, orients students towards making open minded decisions on their education based on options, career development, back ground, access to resources and facilities, accreditation and final certification among others.
It aims to build the capacity of relatively new institutions by creating channels for them to mentor and interact with their core potential mainstream market, the senior high school students.
On what attendees should expect, Madam Charlotte Owusu, Director of I-texon Ghana said: "The fair will redirect students to acquire knowledge, develop intellectual skills, attitudes, values and aptitudes conductive to the all-round development of their personality, instead of just waiting to get into certain specific institutions by virtue of past reputation, irrespective of its relevance to their chosen career path".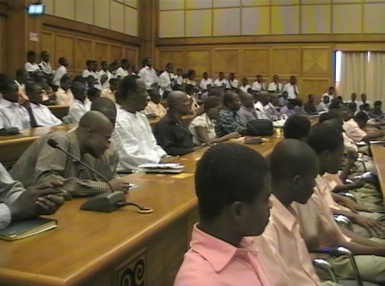 Madam Owusu said for the fair to have maximum impact, the event is divided into two forms – Exhibition and Lectures. "The exhibition affords students the opportunity to interact with representatives of higher education institutions. The Lectures, however, are talk sessions that are supported with video or power point presentations that intend to give students in–depth information on all higher educational institutions and the opportunities available."
The Director added that the fair makes it possible for tertiary institutions to reach out to potential students on courses offered, the links between what they study in high school and what programs are offered in tertiary institutions, the career options available to pursue after school, student housing availability, financial aid and other relevant education information.
Institutions who wish to participate should contact the Fair's Secretariat on 0244 655 331 or email itexonghana@yahoo.com for any needed information.
Source: I-texon Ghana