Thai Cave Rescuers In 'Race Against Water'
Rescuers in Thailand are racing against the rains to free 12 boys and their football coach trapped in a flooded cave in Thailand.
A deluge is expected to hit in a matter of days and could force the water level up, threatening to flood the pocket where the group has taken refuge.
The boys, aged 11-16, and their coach have been trapped since 23 June.
They are believed to have entered the cave when it was dry, before sudden heavy rains blocked the exit.
The group was found on Monday night by two British rescuer divers, on a rock shelf about 4km (2.5 miles) from the mouth of the cave.
The region of Chiang Rai where the boys are trapped has for the past few days experienced a dry spell, but the expected turn in the weather may force rescuers to rush their plans.
"We are racing against time before we found them," Chiang Rai Governor Narongsak Osotthanakorn said at a press conference on Thursday morning. "Now we are racing against water."
Mr Narongsak also said telephone lines were being installed in the cave, so the boys could speak to their families, though the line has yet to reach the boys.
A new phone is being taken into the cave, after a previous device fell into the water and stopped working.
If the rain stops for long enough, there is a possibility that the group could walk out of the Tham Luang cave complex, or be floated out – rather than having to dive.
The total journey from the cave's entrance to the trapped group currently takes a total of 11 hours – six hours in and five hours back out.
Many of the boys can't swim, and all will have to be taught basic diving skills if they are to leave that way.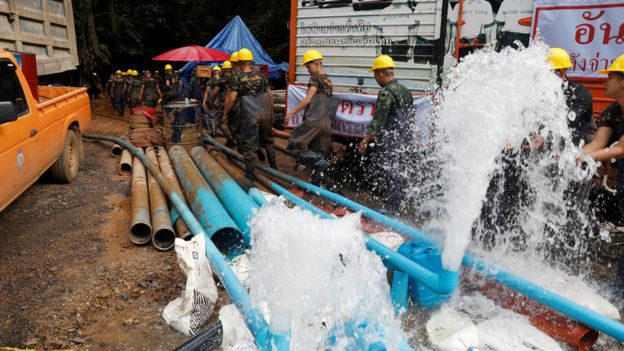 About 128 million litres of water had been pumped out by Thursday, with the water levels coming down at an average rate of 1.5cm per hour.
The cave complex is regularly flooded during the rainy season which lasts until September or October.
Source: BBC